~"Most people would succeed in small things if they were not troubled with great ambitions."
Henry Wadsworth Longfellow
We have been enjoying a very warm and sunny few weeks this early fall. It makes up for the horrible summer a bit. This also gave me the chance to wear a warm weather look before I move on to coats and boots.
I feel the look has a strong 90's vibe. I actually wore something almost exactly like this then.
I actually altered the skirt. I got it on sale for 3 bucks. But often only the really large sizes are marked down, so I made it smaller at the waist, which resulted into a nice flair. The skirt also has an interesting length.
I'm glad to have found another look for these shoes. They are very plastic looking and clumpy, which is perfect for a 90's look and add a bit of interest and edge to this otherwise fairly preppy look.
I feel like the green bag goes well with so many neutral colors. Really happy with the choice in color I made back then (It was between red, purple and green)
Tried to get some action photos :)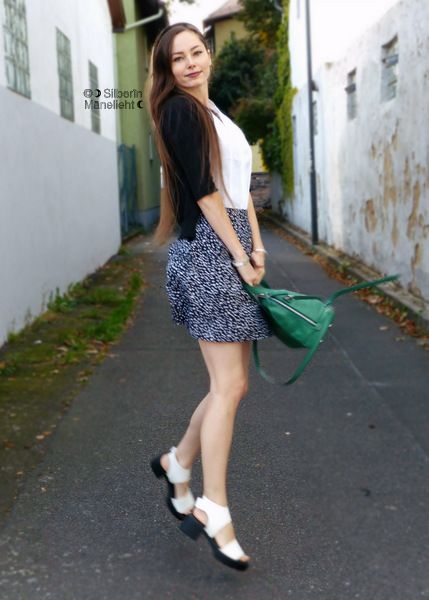 Too bad this is a little blurry!
And for the longhaired at heart readers, I got some hair shots. I was surprised at how decent these looked. For those who don't know, I have suffered hair loss for the past two years and my hair looks very messy with all that regrowth ranging from one inch to past my shoulders...:/
Tried to do something slightly grunge, also 90's inspired. This lip stick color was certainly hot back then and at age 13 I loved wearing brown lip stick (occasionally..I did not wear Make Up all the time)
To compliment the lip color, I also added light brown liner underneath my eyes, which is actually the eyebrow pencil that I used ;)
I took a few close ups too, It is really hard to show the detail in these shots. You can click the following images for very large files:
The only downside about this lip color is the application. I don't feel like I got the shape right. It is a glossy lip stick, but I much prefer the permanent, liquid lip colors. This one wore off quickly :(. The shade is really nice though and hard to find. I also wore some liquid eye liner and extended the line at the outer eye corners. I also filled in my eyebrows a bit at the top of the arch, to give them a sort of faded look. I used a light brown, ashy color for this, which I feel looks best. My eyebrows aren't very bushy, so using a really dark color can look off.
I don't wear foundation (my skin is so much clearer without it), but I wanted to get a picture that shows more skin detail for my other blog. Can you believe I had horrible, horrible skin just a little over a year ago? With a bad case of Acne that appeared suddenly. Then I figured out it was a fungus and cleared up my skin within two weeks! You will find all posts about this on my longhaired at heart blog! Ever since using the anti-fungal cream, I have been having the clearest skin in all my life. If you have acne, check it out to see if it could be related to a fungus!
My Septum piercing is just flipped up my nose btw. :) It is really convenient that it can be worn that way if you want a change and I don't even notice it is there.
This Emerald necklace perfectly matches my bag!
I'm very happy with what I did that day and I feel it improves the mess I am suffering thanks to hair loss a bit. I used to wear short bangs, but with hair loss...these actually fell out and thinned to the point where it looked weird. So I decided to grow them out. I don't have any layers or hairstyle otherwise. I just side parted my hair and then added this thick velvet hair circlet, keeping on side of hair behind my hair and the other side parted by the hair circlet.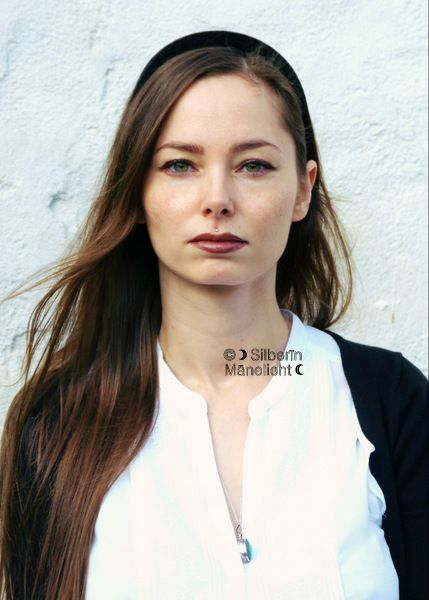 Here you can see how one layer falls to the front a bit.
Left side vs. right side:
My hair is just crazy Chameleon when it comes to colors....I never knew that before I stopped dyeing my hair. I used to think I have a ashy hair color....never did I think I had a reddish brown color....
Just a Marc by Marc Jacobs bracelet. I posted about this recently because they were available on Ebay for only 11 bucks. It is very cute, but the leather isn't the best. Okay for the sale price but I would not spend the full price on it. I may switch out the leather band in the future.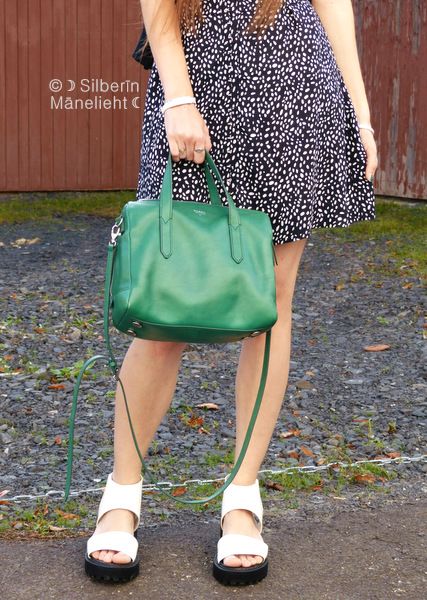 Blouse, Skirt, Shoes: H&M
Bag: Fossil, Sydney Satchel in teal
Emerald Necklace: Medieval Fair
Bracelet: Marc by Marc Jacobs via Ebay