I love doing very color coordinated looks and also matching my Make Up. This look is pretty neutral color wise, with the red boots as a pop of color.
I combined colors that I wear fairly often: black, white, red and green (a light sage here). I am always drawn towards these colors because I feel they look good on my complexion, eyes and hair. They are soft, but also provide some contrast.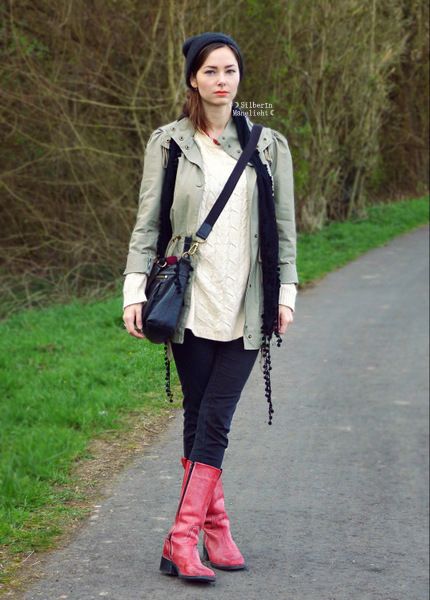 The boots are very comfortable Gaucho (riding) boots, made of antiqued (distressed) red leather. What I love about them is that the leather looks so obviously authentic and of great quality. As if the leather was hand dyed. I think red boots can be difficult, but not when they look like they are of great quality leather. I do get a lot of compliments on these boots actually! Most I have ever gotten on a shoe.
They also seem to fit every season.
The brand, DUO boots makes boots in slim, regular and large calf sizes. My legs are pretty tiny, so with high boots I often have the problem of the shaft being to wide. These measure 33 cm and they are a perfect fit even with a skirt! I have two pairs of DUO boots.
The cashmere sweater is my mom's. It is from the 80's. It is really great soft quality and I wear it often.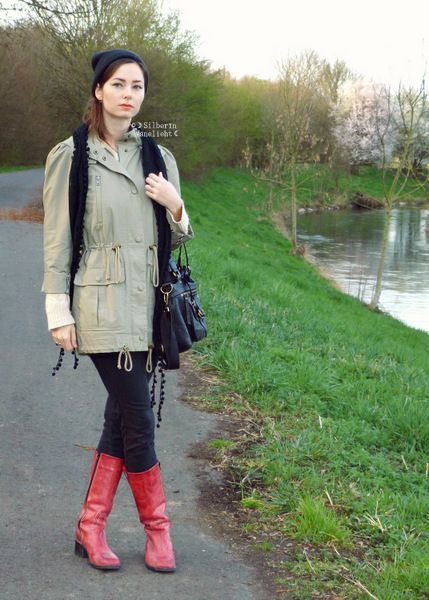 The coat is much prettier than the pictures show. The material is sort of textured, almost like a saffiano look and the inside is lined in beautiful, black and white checkered fabric. I didn't have much time to take pictures of the details, because my son was getting impatient ;)
It has a hoodie, a draw string waist, 2 large pockets in the front, and several small and interior pockets. The sleeves are a bit puffed at the shoulder. They are full length sleeves but I love folding them up to reveal the sweater underneath and some of the coat lining (the seams are lined too).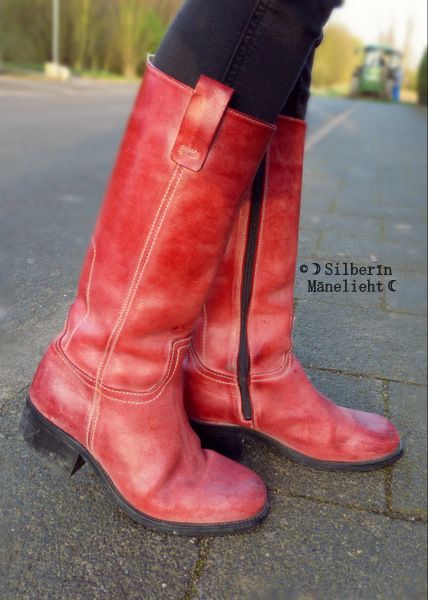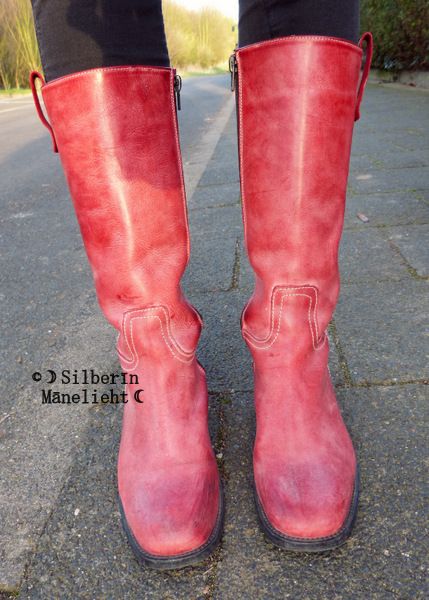 Make Up and hair:
I often match the colors of my lips or eye shadow or even eye liner with my outfit.
The Make Up I did here really puts the focus n the upper eye line in my opinion. I drew a think black line on my upper eye lid with kohl kajal pencil. Then I lined the inner AND outer bottom lid with white (!) eye liner. I find it makes the bottom lid look less dominant. It can also make your eyes look a bit smaller because of the double white line. So test it to be sure you like the look of it.
My eye brows are darkened a bit with a dark brown brow pencil. I just added a few, light strokes into my brows and then faded it a bit with a brow brush. By a few strokes I mean probably about 7 per brow. It sounds like very little, but it is enough to give a natural, darker brow look. If you were to add many little strokes all throughout your brow, you would end up with very defined and very dark brows. Something that I don't do because I feel it would make me all brows and take away from my eyes.
My lips are colored in a orangey red tone by Maybelline New York (24 hr color stay lip stick). Most of my lip sticks are from this brand, because they just don't wear off. No matter what I do :D If I want a lighter, less opaque look I will go for a normal lip stick or lip tint though.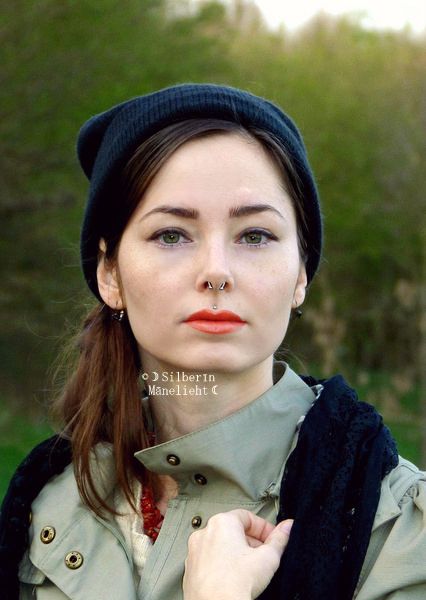 I have been wearing lots of hats. I like the variety hats give me. Wearing a beanie reminds me a bit of Medieval and Renaissance headcoverings and I like that look. I tied my hair in a small loop bun, wrapped the length around it and left the ends hanging, which creates somewhat of a "short ponytail" effect.
Clothing Items:
Rain Jacket (2010), Jeggings, Beanie (recent):
H&M
Cashmere Sweater: 1980's Vintage